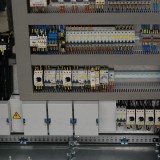 General distribution cabinet.
Prasat ends manufacture and test the general cabinet of the stage machinery of CREAA Theatre, Alcorcon, for Thyssen Krupp Elevator.
It has adapted the scheme implementation and as the basis of power distribution system have been used busbars and modular accessories Wohner.
We are currently in the process of manufacturing more than 60 control cabinets for most of the stage machinery equipment, with the same destination.