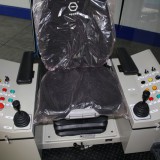 Machinery electrical rooms for Handling sector.
PRASAT increases its experience in manufacturing and installation of electrical control rooms for heavy machinery.
The scope of supply has understood the Manufacture of electric cabinets (Distribution and Control) pre-assembled in workshop electrical rooms and cabins, operator Assistance FAT Testing and the supply of assembly materials (Pipes, cables, lighting, local controls, etc. ..) and spare parts.
The mentioned supply corresponds to 3 machines for the Handling sector or bulk handling.