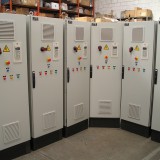 Manufacturing series of cabinets for the concrete industry.
For our customer AVANTECNIA again, we make a short series of cabinets for inverters and PLC with inputs / outputs.
The cabinets will be used in the concrete factory of El Alto, near Madrid. Prasat technicians have actively participated in the design and the implementation of equipment, manufactured mostly by ABB.
Both the PROFIBUS network, the PLC and all maneuvers has been tried and tested in our workshops, in the presence of Avantecnia technicians and the end customer.