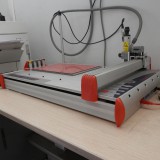 New multifunction plotter for labeling and marking.
With the acquisition of a new plotter with capacity for engraving labels, PRASAT integrates a complete computer attended marking system (CMS).
With the features available we can label and record all brands and labels required for manufactured equipment in our workshops, as well as providing a variety of custom tags and labels for our customers.
Engraving head is capable of processing acrylic polymers and two layers of different colors to A4 size. We have great variety of fonts and sizes and can include logos and other graphics on demand.
In addition we can manage printing, machining and wiring of all conventional LEDs based Synoptic panels of 1, 2 and 3 colors.